Sod Installation
                    Sod pricing even the box stores can't beat.

Call Now for a Free Quote! (859) 913-0957
---
Sod installation company Lexington, Kentucky.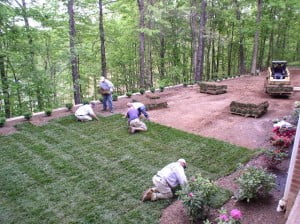 Sod is great for covering large areas or bare spots in the lawn. Kentucky Lawn care service representatives are trained on how to properly install sod. If your lawn has large patches of area that are not covered in grass, or if over 20% or more of the grass is covered with weeds, it may be best to consider having sod installed.
Installing sod properly is key
Sod that is not properly installed will become brittle and burn out. Additionally, if it is not applied correctly it may never take root which eventually will also lead to it dying out due to it not receiving proper water and nutrients. Certain loose materials can be applied, such as our nutrient rich organic top soil, to increase the chances that the roots will grow into the soil.
Having a beautiful lawn is easy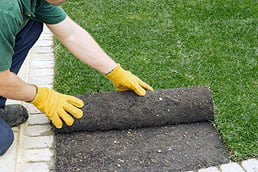 Kentucky Lawn Care crews will prepare and test the soil to determine if the proper nutrients are in the soil, as well as properly fertilize if requested. Please water regularly as sod will burn out if it has not been watered. We do not replace sod that has not been properly watered.
Please contact us for further questions or to schedule a free quote.

Kentucky Lawn Care Tip
The best time to install sod are between the spring months of April – May and the autumn months of September 15 – November 15.
You may also be interested in: