Tree Trimming
                          Yes, they do look better trimmed.

Call Now for a Free Quote! (859) 913-0957
---
Tree trimming company in Lexington, Kentucky
Tree trimming services
You should always have your trees trimmed professionally. Proper tree trimming is vital to the overall health of the tree, and your safety is important. Kentucky Lawn Care uses the proper tree trimming equipment and safety processes.
Proper trimming of trees is important
It is important to have your trees trimmed properly to the right size. Removing too much of a tree can damage or even kill the plant. Maintaining the tree with proper tree trimming is very important in regards to the overall health of the tree. As mentioned above, if done improperly, your tree will not grow to the correct size and shape that you wish.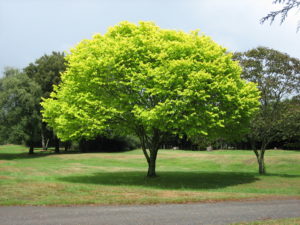 Some flowering trees should be trimmed and pruned in the fall. Pruning is important and vital to the health of the tree. It is recommended to trim and prune while the trees are dormant in the fall. However, most trees can be maintained during off months, as long as not too much is removed.
Your trees will look great with a professional service
Our crews are trained on various tree species and bring the expertise your trees and shrubs need to not only look great, but to be as healthy as they can possibly be. In addition to regular shrub and hedge trimming care, be sure to ask about our treatment application for trees and shrubs. We will develop a specific plan for your plants and the results will be beautiful.
Please contact us for further questions or to schedule a free quote.

Kentucky Lawn Care Tip
Trimming trees to the right size is vital to the health of the tree. It is also important to trim at the right time of the year, depending on the species of the tree.
You may also be interested in: